It is said that employees are an organization's biggest asset. Whilst this statement is true, it holds good only if the people you hire are productive and efficient. A proficient workforce gives you that competitive edge in the market. Seasoned HR professionals are minutely aware of this crucial quality. Hence, it's no surprise that they look high and low in pursuit of the best talent. But, although there could be hundreds applying for a vacant position, not every candidate can do justice to the role. Apart from critical skills and qualifications required for a specific job, candidates must have the aptitude, dexterity, and an undefined 'X' factor that gives them an edge over numerous other applicants.
---
I am convinced that although training and development are important, recruitment and selection are much more important. – Stephen R. Covey, author of 'Seven Habits of Highly Effective People.'
---
It takes talent to recognize talent! Of course, skilled HR recruiters may have the knack. But, not everyone has access to the advanced technology or resources to hunt for the proverbial, diamond in the rough. Thus, after investing hard work and relentless searching, companies are still disappointed with limited or insufficient suitable candidates.
Industrialists and entrepreneurs have realized the potential benefits of delegating functions to external agencies that deliver top-quality services and help ease internal workflows to operate more efficiently. Amongst the list of the most outsourced B2B services, recruitment has fast gained popularity. An efficient RPO management service can ensure that all your recruitment needs are fulfilled within your pre-defined expectations and criteria such as quality, time, and budget.
---
Do what you do best; outsource the rest. – Peter Drucker
---
Since COVID-19 disrupted markets and industries globally, uncertainties have affected all businesses. In-house HR departments of large enterprises and SMBs alike have been unable to keep up with these drastic changes in the employment demand and supply chain. However, companies that switched to RPO service providers managed to tackle fluctuations, bulk, and sudden recruitment requirements across their departments. Having said that, every business is distinct with unique needs.
The following questionnaire will help you discover if outsourcing the recruitment process is right for your business:
Have you had to compromise on the quality of your recent recruits?
Does it take your company long to fill in job vacancies?
Are you unable to justify your cost per hire?
Are you unable to find candidates with the skills and qualifications required for specific or unique positions?
Is the recruitment process stealing the focus away from your core functions?
Is your HR department in a nascent stage and understaffed or unable to manage recruitment?
Is your team not large enough to manage recent, additional or fluctuating recruitment demands and associated responsibilities?
Are you in the habit of engaging several different recruiting agencies to find suitable candidates?
Do you not have an in-house HR department but intend to begin hiring soon?
Does your demand for labor seem higher than the supply you can get?
Do you have expansion plans that rely heavily on hiring a competitive workforce?
Also Read: How to Find the Most Reliable Payroll Outsourcing Service in 2022
If your replies to the above questions tilt towards the affirmative, hiring a reputed RPO service provider can solve all your problems, including saving your company a lot of time and money while bringing you high-quality talent, leading to optimum productivity.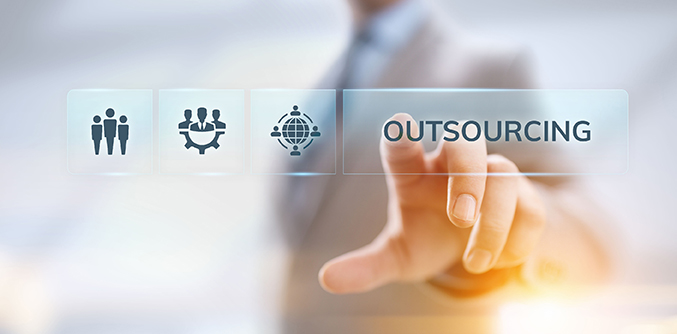 Initially, you may be skeptical about outsourcing such a significant task, but once you are familiar with the process and realize the advantages, delegating can enable you to focus better on your core functions instead. It goes without saying that your success in this endeavour will only be certain if you select the right service plan and provider. So, let's simplify this task and look at the available options. This knowledge can help you choose the most appropriate recruitment plan for your company.
1. End-to-end RPO
solutions In this option, the RPO service provider manages the overall employee hiring cycle. This includes sourcing, screening, tracking, acquisition, interview scheduling, coordinating, background verification, assessments, offer letter management, and onboarding.
2. Project Specific RPO
With a project-specific contract, you can engage the services of an RPO agency for certain portions of the recruitment cycle or fulfill a specific recruitment demand. This is preferable if you do not anticipate a surge of demand in your recruitment needs within a particular year or tenure. You can convey your needs to the RPO service provider and pay per head, function, or project-wise.
3. Management RPO
Management RPO provides maximum flexibility and convenience to business owners. With an external RPO agency handling all of your recruitment needs throughout the duration of an agreement. You can depend solely on your service provider to bring in appropriate talent whenever needed. The onus of the responsibility lies entirely on the agency you team up with.
It is crucial to pick a reliable Recruitment Process Outsourcing company for whichever plan you choose. Trusting an external agency with your most important asset is a big leap of faith. Exela HR Solutions provides unmatched recruitment process services to large enterprises and small companies, alike, across all industries. With years of expertise in recruitment management, Exela ensures no disparities between expectations and delivery. With systematic workflows, advanced technology, and a dedicated team that regularly engages with clients for feedback, Exela HR Solutions is undoubtedly the best RPO.
With streamlined processes and seasoned staff adept at handling the entire recruitment cycle, Exela HR Solutions efficiently manages all your recruitment needs. Whether you seek contractual, part-time, or full-time employees, irrespective of the industry or field, Exela excavates the most appropriate talent for your business, every time! Exela is a market leader in Business Process automation and digital transformation. With end-to-end solutions and customized plans available, our only job is to help you succeed with the best talent available! Find out more about what Exela HR Solutions can do for your business today!
DISCLAIMER: The information on this site is for general information purposes only and is not intended to serve as legal advice. Laws governing the subject matter may change quickly, and Exela cannot guarantee that all the information on this site is current or correct. Should you have specific legal questions about any of the information on this site, you should consult with a licensed attorney in your area.